Ochrana přírody 2010 — 2. 8. 2010 — Zvláštní číslo
Protected Areas – A Benefit or a Loss?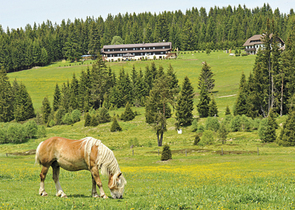 Protected areas are important not only because of nature conservation and landscape protection but also of attractiveness of the regions or areas in which they are situated. The article presents the experience from the Šumava/Bohemian Forest Mts.
In the administratively complexly structured region, the National Park and Landscape Protected Area Administration is an integrating element as well as an important driver of regional development. Within the region, the Administration has been a significant investor; since 2005, it has invested more than 140 million CZK (5.48 million euro) in road reconstruction and perpetuity maintenance, reconstruction and repair including infrastructure for visitors and in water system and fish passage restoration. In addition, the Administration has paid to owners more than 30 million CZK (1.17 million euro) as compensation for aggravation in agricultural, forest and fishpond management. The Administration has successfully applied for projects financed from various subvention programmes/subsidiary schemes. In 2000–2006, it received finances from the European Community's Phare and Interreg III funds/financial mechanisms. In 2007–2013, supported from the Transboundary Co-operation between the Czech Republic and the Free State of Bavaria Programme, it has been implementing, in collaboration with the Bayerische Wald/Bavarian Forest National Park, two projects, namely Research on Eurasian Lynx and Roe Deer Ecology in a Mountain Ecosystemand Space-use by Bats and Bat Monitoring Scheme Development. Due to subsidies from the Operational Programme Environment, the Administration implemented a range of the projects in 2009, e.g. removing unused buildings in the Specially Protected Areas or restoring information facilities for visitors on the National Park's territory. The Šumava/Bohemian Forest Mts. Masterplan – Šumava/Bohemian Forest Mts. Region Development Landscape Integrated Plan is a pilot project, because in the Czech Republic, it is the very first attempt to financially support a region by all the sectors, testing possible benefits from such an approach to be potentially applied also in other regions in the Czech Republic.