Ochrana přírody 5/2010 — 27. 10. 2010 — Z naší přírody — Tištěná verze článku v pdf
The Litovelské Pomoraví/Litovel Morava River Basin Protected Landscape Area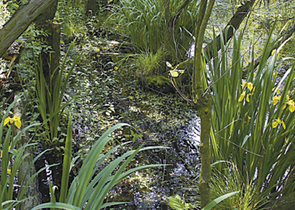 The Litovelské Pomoraví/Litovel Morava River Basin Protected Landscape Area (PLA) situated in Central Moravia between the city of Olomouc and town of Mohelnice was declared on the territory of 96 km2on October 29, 1990.
The conservation aims at maintaining the areas surface character including water bodies and watercourses, its wildlife, land-use of forests and farmland, location and structure of human settlements and local traditional architecture. Characteristic and the most remarkable PLA parts are formed by the Morava River floodplain, harbouring extensive floodplain forests. The above habitats are associated with the occurrence of many species or other taxa, having been threatened with extinction in various degrees, e.g. the Water Violet or Featherfoil (Hottonia palustris), Frogbit (Hydrocharis morsus-ranae), Tufted Loosestrife (Lysimachia thyrsiflora), Water Buttercup (Ranunculus lingua), Water Parsnip (Sium latifolium), Yellow Bladderwort (Utricularia australis) and many others. Periodically waterlogged floodplain forest depressions and partially also adjacent meadows are inhabited by the branchiopds (Branchiopoda), namely by the Fairy Shrimp (Eubranchipus grubii) and Spring Tadpole Shrimp (Lepidurus apus). Within the area, meadows are remarkable phenomenon, but in the 20thcentury, many of them were replaced by the arable land, due to agricultural intensification, others were degraded into grass fields. The most valuable floodplain meadows have been preserved in the Plané loučky Meadows Nature Reserve: in addition to high sedge growths, grassland pools, shrubs, reed beds and alder stands, they are part of a mosaic of the habitat patches there. In total, 56 Red List taxa occur there, 12 of them having been Specially Protected Species. Due to high risk possessed by underground water abstraction, the part of the PLA appeared on the Montreux Record in 1997. Under the Ramsar Convention, the Montreux Record is a register of wetland sites on the List of Wetlands of International Importance (Ramsar Sites) where changes in ecological character have occurred, are occurring, or are likely to occur as a result of technological developments, pollution or other human interference.
Within the European Communitys Natura 2000 network, the whole PLA was delineated as the Litovelské Pomoraví/Litovel Morava River Basin Bird Area (pursuant to Act No. 114/1992 Gazette on the Protection of Nature and the Landscape, as amended later, the term for Special Protection Area, SPA under the Birds Directive), conserving the Common Kingfisher (Alcedo atthis), Middle Spotted Flycatcher (Dendrocopos medius) and the Collared Flycatcher (Ficedula albicollis).Most of the PLA has also been a part of the Litovelské Pomoraví/Litovel Morava River Basin Site of European Importance (pursuant to the above Act, the term for Site of Community Importance, SCI under the Habitats Directive)., established for maintaining populations of the European Beaver (Castor fiber), Eurasian Otter (Lutra lutra), Barbastelle Bat (Barbastella barbastellus), Fire-bellied Toad (Bombina bombina), Great Crested Newt (Triturus cristatus), Dusky Large Blue (Maculinea nausithous), Large Copper (Lycaena dispar) and the Little Whirpool Rams-horn Snail (Anisus vorticulus– Gastropoda) at favourable conservation status.